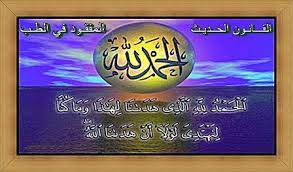 القانــون المفقـــود في الطــــب . The missing law in medicine
اكتشاف السبب الحقيقي في إصابة الإنسان والحيوان بجميع أنواع الأمراض المختلفة ومؤسس مملكة المرض في جسم الانسان ( Dragon Virus ) وهو. ذو طاقة حارة شديدة. ليدمر كل النظريات المضللة والأسباب الكاذبة المنتشرة عالميا حول أسباب الأمراض المختلفة.

.
Allah is the greatest . I seek refuge with Allah from the accursed Satan. In the name of God, the most gracious, the most merciful. Ladies and gentlemen: The discovery of the true cause of infection of humans and animals with all kinds of different diseases and the founder of the kingdom of diseases in the human and animal body (Dragon Virus), a virus with intense very hot energy. To destroy all the misleading theories and false reasons spread all over the world about the causes of various diseasesAnd it is more deadly to the cells, vessels, fibers of the nervous system and the cells of the organic body by means of the warm energy that it radiates in the tissues and cells around it, which reaches twice the normal temperature of the human body.It affects those who have passed adolescence and adulthood only, starting from the age of 20 It affects a person while he is in the prime of his youth and at the peak of the activity of his nervous, organic and immune systems, yet it cannot resist it or overcome it completely.It resides in one of the nerve cells in the intestines and digestive system that are attached to the cranial nerve that connects to the brain and the brain. Which gives him the advantage of feeling and feeling early and fast of any danger that may attack him or counter him from any part of the body. Sensitive, hypersensitive, very sensitive, and is affected very quickly as soon as he senses any substance that may attack him or that is contrary to his nature and feels threatened by it. The sensitivity of this virus, its sensitive feeling and its keenness, makes it that if it is attacked by any substance, it weakens and collapses and its energy is extinguished and takes the form and mode of inactivity, thus starting the immune systems and the nervous system Freedom and in the immediate recovery of its activity again and immediately repair what it can fix from the malfunctions in the sick cells and tissues, and therefore there are some. Malfunctions are treated immediately, especially malfunctions in cells, nerve fibers, joint infections and cartilage wherever they are in the body.And all kinds of psychological and nervous symptoms, depression, ligaments, joints, muscles, etc., in a time of only 10 - 15 minutes When the material used therapeutically has a strong effect on it. His extreme weakness and rapid lethargy when exposed to any anti-material is the main factor that led to the emergence of different types and forms From the many alternative medicine and treatments around the world from a long time ago to the present time, such as the types and forms of ancient medicine, Chinese medicine, Arab, Indian, Greek and American alternative medicine, as well as the new treatments such as energy and aromatherapy and so on.
معلومات
المنتدى المختار غير موجود